Rugid Computer's WiSI™ Wins 2011 Design News Golden Mousetrap Award for Best New Product
WiSI's All-Inclusive Design Simplifies Integration and Deployment.
Olympia, WA, USA (PRWEB) March 25, 2011 - A top design industry publication has named Rugid Computer's WiSI™ as one of the most innovative products of 2011.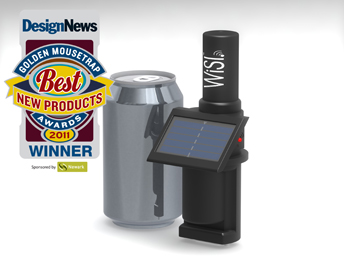 Rugid Computer is pleased to announce that the editors of Design News magazine chose Rugid Computer's wireless sensor network device, WiSI, as a Golden Mousetrap Award Best New Product winner for Automation & Control – Industrial Network Technologies.
One WiSI can provide the functionality to monitor and control up to 8 sensors that previously required a RTU, radio, battery, outdoor/weather-proof enclosure, antenna and solar regulator; all in about the size of a soda can and weighs less than 1 lb. A WiSI wireless sensor network can be deployed in remote locations where power is not available and provides data acquisition and control where previously the need existed but the solution was not practical. With the absence of a battery, the need for periodic maintenance is eliminated.
"The products highlighted in this year's Golden Mousetrap winners and finalists clearly demonstrate both cutting-edge design ideas and the practical evolution of technologies for systems and product design engineers," said Editorial Director David Greenfield. "Design News congratulates all the engineers and their companies who have been recognized with the Golden Mousetrap Award, and we are grateful for their contribution to this year's competition."
Design News has been recognizing engineering innovation and creativity in product design through the Golden Mousetrap Awards for more than 20 years. This year, the Design News editors received a record number of entries and, based on their expertise in each technology area painstakingly selected the Golden Mousetrap winners and finalists. Golden Mousetrap awards were given in four major categories: Electronics & Test, Automation & Control, Design Tools: Hardware & Software, and Materials & Assembly.
"We are very excited that Design News has recognized WiSI as industry leading," stated Brady Melchior, President of Rugid Computer. "WiSI permits rapid deployment and virtually no maintenance coupled with extremely long life so our customers can realize cost and time savings through ease of use."
About Rugid Computer, Inc.
Established in 1986, Rugid Computer, Inc. designs and manufactures wireless data acquisition products and remote terminal units (RTUs) for data acquisition and control applications. All Rugid Computer products are designed and manufactured in the USA.
For more information, contact Rugid Computer, Inc., 9730 Lathrop Industrial Dr. SW F1, Olympia, WA 98512; Phone (360) 866-4492; Fax: (360) 866-8074; or on the web at: www.rugidcomputer.com.