Rugid Computer Announces New Outdoor Wireless Sensor Interface, WiSI™
In a world where data acquisition needs continue to accelerate, WiSI is one step ahead. Completely innovative and fully featured, WiSI is the most forward-thinking remote wireless sensor interface on the market today.
Olympia, WA (PRWEB) September 14, 2010 - Rugid Computer, Inc. is proud to introduce WiSI (Wireless Sensor Interface), its new family of wireless data acquisition products specifically designed for rapid deployment to monitor and control remote sensors. WiSI is an all-in-one radio, data acquisition and control, self-powered device; all enclosed in a weatherproof, IP-67 rated outdoor package the size of a large fist.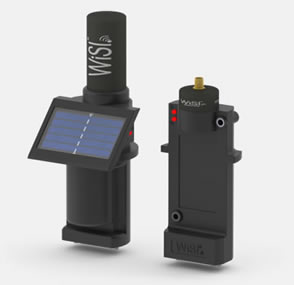 WiSI operates standalone in applications where previously remote monitoring was too expensive or difficult to install and maintain. WiSI provides three low-power models. One has an integrated solar panel and maintenance free energy storage and can communicate for up to a week without sunlight. With no batteries, regular maintenance is not required. Two other low-power models run from an external 12VDC power, and are ideal for applications where energy harvesting is a must.
WiSI comes standard with a 2.4GHz radio, antenna or RP-SMA connector, 4 analog inputs, 4 digital inputs, 4 digital outputs, and 5V and 18V DC instrument supplies capable of sourcing up to 25 mA for powering several sensors or a 4-20 mA loop. Standard features also include a quarter milliamp current supply for powering RTDs and an RS232 port for communicating with other equipment and unit setup.
Data is securely passed with 128-bit AES encryption with user-defined key. Star networks with up to 16 nodes have a range of up to 2 miles. For greater distances or dense data collection, tree networks can have up to 254 nodes per network. WiSI's unique physical design allows it to be deployed by slipping it into a 2" diameter pipe or mounting it to a backpan. WiSI is easy to integrate into existing systems via Modbus RTU communication protocol. Onboard diagnostics make field setup simple. A WiSI system is easily configured through free setup software that allows users to individually control the measurement frequency, alarming conditions and other settings for each node.
"The WiSI has raised the bar – there is nothing like it on the market today," said Brady Melchior, Vice President of embedded design and engineering at Rugid Computer, Inc. "The number of features that are incorporated in a single weather-tight package – the solar panel and energy storage, radio, I/O, and sensor voltage supplies – make it so versatile; its applications are endless."
As with all Rugid Computer products, the WiSI is backed by a commitment to exemplary service and support and is backed by a 1 year standard limited warranty.
About Rugid Computer, Inc.
Established in 1986, Rugid Computer, Inc. designs and manufactures remote terminal units (RTUs) for data acquisition and control applications. All Rugid Computer products are designed and manufactured in the USA.
For more information, contact Rugid Computer, Inc., 9730 Lathrop Industrial Dr. SW F1, Olympia, WA 98512; Phone (360) 866-4492; Fax: (360) 866-8074; or on the web at: www.rugidcomputer.com.