For over 25 years we have been manufacturing a complete line of quality low-cost programmable logic controllers (PLCs) and remote terminal units (RTUs) for remote monitoring, data acquisition, control and telemetry applications. RUGID products range from ultra low-power RTUs to highly expandable PLCs. Thank you for your interest in RUGID Computer products.
---

Specifically designed for rapid deployment to monitor and control remote sensors, WiSI is an all-in-one radio, data acquisition and control, self-powered device; all enclosed in a weatherproof,
IP-67 rated outdoor package the size of a large fist. Go to the Wireless Sensor Interface page to find out more...

The RUG3 PLC draws as little as 2 ma in full operation which makes it ideal for projects where power resources are limited. Packed into this little blue box are 6 AI, 8 DI, 4 relay outputs, and a loop supply. Did we mention there are also optional add-ons available? Click here to find out more...
Rugid Computer provides a free, easy, and convenient software package for programming your RTUs! All Rugids use pre-compiled modules so no formal programming experience is required.
Click here to find out more...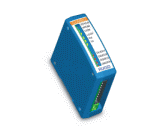 Redefining What a PLC Should Do
As the all new RUG10 becomes a reality, check back for updates!
Want a quick peek? Click here!