RUG3 RTU
The RUG3 RTU is
the latest in a long line
of RUGID RTUs designed for remote
data acquisition and control applications.
It incorporates advanced hardware and software
techniques so you can implement your application in minimal time.
Numerous hardware and software safeguards are incorporated into the design so you can be assured that the RTU will continue to operate for many years in the most demanding field environment.
The RUG3 RTU has a very low power draw which makes it ideal for remote applications where energy harvesting is a must. The RUG3 RTU also has built-in ALERT functions which make it suitable for replacing old ALERT equipment, expansion to current ALERT systems or as a migration path out of the ALERT protocol. The low power RUG3 can also be a Modbus master or a Modbus slave; as well as communicate over Ethernet with Modbus TCP/IP, which makes it flexible for many applications.
All RUG3s come standard with 2KB* of battery-backed RAM, 60KB of program flash, 2MB of data logging memory, realtime clock/calendar, onboard temperature, and onboard battery voltage measurement. Please see below for I/O and details.

RUG3 Datasheet
*1KB operation system, 1KB program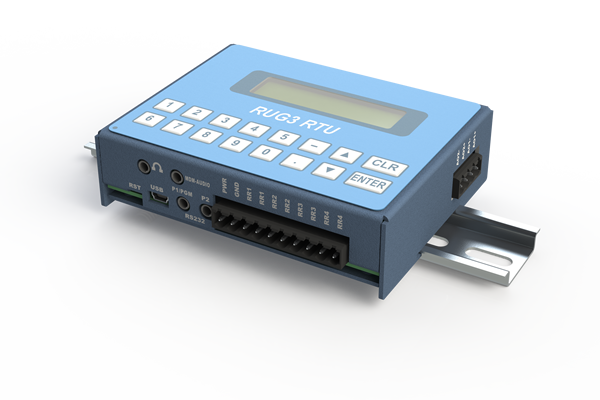 Operator Interface
The built-in operator interface (optional) uses familiar prompts and engineering units, eliminating operator guesswork and code memorization.
The 2x16 character backlit display can scroll through several screens of information with a single key press.
Sealed tactile keyboard enables setpoint and mode changing.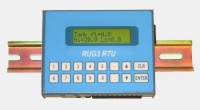 I/O
Six analog inputs are standard with one being selectable as an anemometer input.
Analog inputs are 0 - 5V or 4 - 20mA, 12-bit resolution.
24V, 120 mA loop supply is standard.
Eight digital inputs are standard with one being selectable as 5V reference. Digital inputs can be used for pulse counting (1200pps) and pulse duration detecting (4ms).
Four digital outputs with the option of 10-amp mechanical relays or 0.5-amp solid-state relays.
Two analog outputs are optional; 4 - 20mA, 12-bit resolution, optically isolated.
Features two RS232 serial ports (RS485 available for substitution on P2 port); 1 programming/general purpose port, 1 general purpose port. Available on 2-3.5mm cylindrical jacks or 1 cylindrical jack, 1 USB port.
Onboard SDI-12 optional.
Onboard modem with debugging headphone jack optional.
Temperature and battery voltage measured internally.


I/O Connections
Individual screw terminals using rising cage clamp design are capable of accepting 14 AWG wire.
Screw terminals plug into PC board headers. RUG3 can be "unwired" without removing field wires individually.

Available Enclosures
RUG3D (DIN rail mount)
RUG3C (DIN rail mount, no display)
RUG3P (Panel mount)
DIN rail mountable enclosures slide easily onto a DIN rail. No tools are required for mounting or removing it.
Panel mount enclosures come with a rubber gasket and star nuts for installing.
All enclosures are made of 16-gauge powder-coated steel.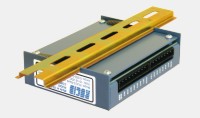 Power Requirements
Power draw as little as 2 milliamps in full operation. This includes the display on, running at full speed with the modem working.
12 VDC +/- 20%.
Powered through USB*.
Programming
The RUG3 is programmed via our support software which is available FREE from our downloads page.
The RUG3 support software has over 140 pre-programmed modules.
RUG3s can also be programmed using ladder logic.
Operating system is field upgradable.