SMART SWITCH -
AUTOMATIC LOW BATTERY / LOW VOLTAGE DISCONNECT (LVD)
The Rugid Computer SMART SWITCH is an automatic low battery / low voltage disconnect (LVD). The Smart Switch is designed to work with any 12VDC or 24VDC control panel or power supply. To prevent a deep discharge of a battery during an extended power outage, the Smart Switch will automatically disconnect the battery when the voltage falls below the user adjustable cutoff voltage. When power is restored the Smart Switch will automatically reconnect the battery.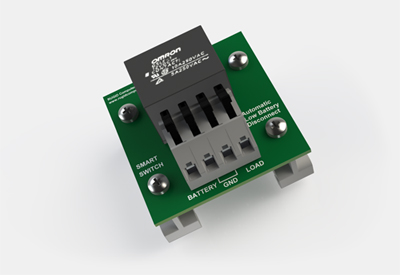 SMART SWITCH Datasheet
Features
Automatic low battery / low voltage disconnect protects battery from deep discharge
Automatic battery reconnect
User adjustable disconnect voltage
Quick connect/disconnect wire terminals
Easy to mount DIN rail package or embedded package
Compact footprint (1.75" x 1.75")
Fits standard snap track
Specifications
Low battery / low voltage disconnect voltage selectable from ~8.8V to ~12.7V (~20.0V to ~24.2V)
Battery reconnect ~1.3V (~2.1V) above disconnect voltage
Factory set disconnect voltage 11.2V / 12.5V (22.5V / 24.V6) disconnect/reconnect
Spring clamp terminal block accepts 14-28 AWG
Relay contacts 10A @ 30VDC (8A @ 30VDC); normally open
Battery connect current draw 33.3mA@12VDC (16.7mA@24VDC)
Current draw LVD mode 100µA
Temperature Range: -40 to +85 degrees Celsius
Dimensions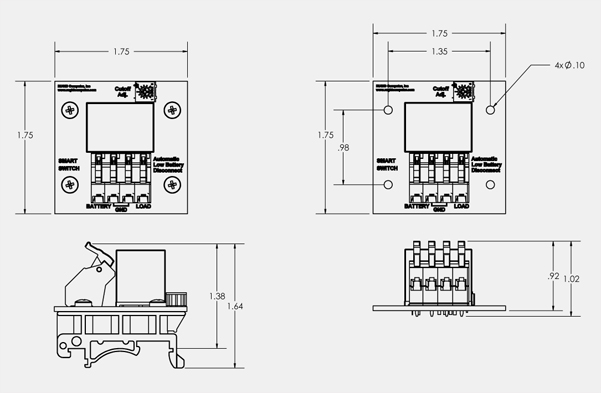 Price & Order Code
Order direct from the factory!
DIN Rail Mount: SMART-SWITCH-DIN-XX (Single quantity - $34/ea., 20-pack - $27.50/ea.)
Embedded: SMART-SWITCH-EMB-XX (Single quantity - $27.50/ea., 20-pack - $22/ea.)
XX = 12, 24